Economical UV sterilizer for residential and light commercial applications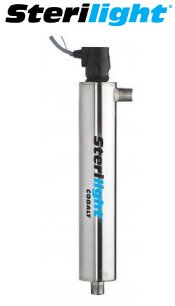 Sterilight by Viqua is well known for striking an excellent balance between quality and value. Its residential and light commercial UV systems are among the most popular in the world. Viqua's parent company, Trojan Technologies is the pioneer and world leader in UV water disinfection.
The Sterilight product line features a wide range of models from very basic low flow models for under sink applications to sophisticated models with all the bells and whistles capable of flow rates of more than 50 gallons per minute. Below, you will find a chart that will help you select a Sterilight model that is best suited to your application based on the features you want and need, and your flow rate.